Presale for Chart Your Path: A 9-Step Method to Getting Unstuck
Releasing Early 2024
This book is about how to identify and unlock your true potential.
About my book, Chart Your Path: A 9-Step Method to Getting Unstuck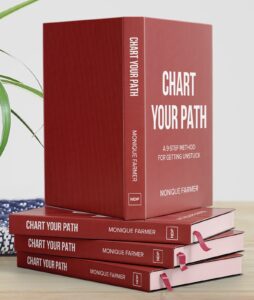 Welcome to the exciting world of Chart Your Path: A 9-Step Method to Getting Unstuck! I'm Monique Farmer, your guide on this incredible journey of self-discovery and transformation. But before we dive in, let me tell you a bit about myself.
I'm not just an author; I'm a 20-plus-year accredited public relations veteran, sister, aunt, best friend, mother of three, wife of 22 years and a lover of 90s R&B. Oh, and did I mention I run Avant Solutions, a PR/communications and marketing firm? So, trust me when I say, I've seen it all and experienced it firsthand.
Now, let's talk about this book. It's not your ordinary self-help guide. It's a vibrant tapestry of stories, insights and practical tools that will empower you to break free from the chains of inertia and tap into your true potential. With Chart Your Path, you'll learn how to navigate life's challenges, find your purpose and create the life you've always dreamed of.
I decided to write this book after a yearlong journey with a cohort of other women who sought to overcome their fears and pursue a more fulfilling life. Throughout the book, I share stories and insights from authors, entrepreneurs, magazine publishers and others who have gone from a space of tension to the tranquility of pursuing their dreams and serving others.
My hope for this book is that it serves as a guide for those seeking to make positive changes in their lives. If you are looking for inspiration to overcome your fears and embrace your full potential, you will love this book.
This book is not just about my experiences; it's about stories of everyday people who have overcome their fears, shattered limitations and achieved greatness. Their stories will inspire you and ignite the fire within.
One of the most inspiring and captivating stories in this book is about two twins who aspired to start a magazine. "Dreamers tend to take unconventional paths that are sometimes misunderstood. I lost but gained a lot in this journey because I am inspired by what God created for me," said one twin. "There are always fears, especially when you don't see your dreams coming to fruition at the times you would like.
This book is divided into three parts:
In Part One we'll explore some of the reasons and ways people tend to end up stuck–in a relationship or job they loathe, uncertain of what motivates them or just overall in a life that feels dull and uncertain about what their general contribution or purpose is.
Part Two is the process–we'll overview the framework designed to help take you from tension to tranquility. This 9-step method will help you gain a better understanding of how to map your way from where you are to where you want to be.
In Part Three we'll take things to the next level. We'll chart the course to your dreams, providing you with a roadmap to success and guiding you through the steps needed to make it happen. This is where you'll learn how to conquer your fears, embrace change and step into your power.
So, if you're ready to break free from the status quo, conquer your fears and chart your own path to success, I invite you to join me on this journey of personal growth and transformation. Support this presales campaign, follow me on LinkedIn to stay updated on my author journey, subscribe to The Avant Edge and follow us on Avant Solutions' social media channels.
Thank you for joining me on this adventure. Let's chart our paths, unlock our potential and create a life that truly fulfills us. Remember, the future is in our hands, and together, we can make it extraordinary. #ChartYourPath
More About My Publishing Journey
My publisher (Manuscripts) gave me a publishing team to help me produce and launch my book. I am working with…
A revisions editor, copy editor and proofreader this Fall to further hone my book (when you buy a ticket for my launch, you'll get early excerpts and access to earlier versions of my manuscript!)

A marketing specialist to coach and support me in marketing efforts and help me reach new audiences

A cover artist and layout editor will be designing my book. (The mockups you see currently are a placeholder!)
I am also offering some exclusive rewards for people who buy a ticket to my book launch:
All tickets include either a physical copy (softcover, paperback) or digital copy (ebook) when I publish and a handwritten thank-you note.

Your name will appear in the Acknowledgments section of my book ("with Special Thanks to").

You will be invited to join my Author Community and get behind-the-scenes sneak peeks into the publishing process.

You will receive early access to the Introduction and some excerpts from my book, with the opportunity to review it and give me early feedback.

You will have the opportunity to be involved in finalizing my cover and title.

And more!
Other Ways You Can Support Me
Some people just can't contribute, but that doesn't mean they can't help:
Please share my pre-sale campaign on Facebook, Twitter and LinkedIn with your friends, family and network. Please use #ChartYourPath and tag me as well as my publisher, New Degree Press, so we can help amplify your efforts.

Please recommend my book to five friends, family members, or co-workers who you think would enjoy it via text or direct message on social media.
Your support means the world to me. Thank you for your love and encouragement.
Monique
Frequently Asked Questions
Are Preorders Refundable?
Tickets are non-refundable, however, if you are unable to attend, you may transfer your ticket to another individual at no charge.
What is the deadline to preorder?
The presale is open for 30 days, and then you will have the option to join a waitlist and support when my book releases. If you preorder now, you will be able to participate in my publishing journey.
Can I purchase more than one ticket?
You can purchase multiple tickets if they are offered as a primary option when selecting your preorder, or if it is available as an add-on. If you want to purchase additional tickets after, you are welcome to use a second email address and place a new order — or, you contact the author and can upgrade your order for additional tickets.
After preorder what will appear on my credit card statement?
You will see 'MANUSCRIPT' reflected on your credit card statement.